A Handcrafted Life
"My work is fine, light, detailed, slow process, slow touch, once in a lifetime happenings, the delicate interaction of tencel, silk, merino, cotton, dye, color. Every breath, every moment in life is different, so is every crafted piece. Craft is self-expression, mediation, interpretation of the world around me, a connection from the past to the future."
- Katrina King Who is Threaded Dream?
Hi, I'm Katrina King, solo parent of two teen daughters. The three of us are on a journey of discovering who we are and what we want in this life. I'm using my knowledge and love of craft to create the artistic life I want to live.
More...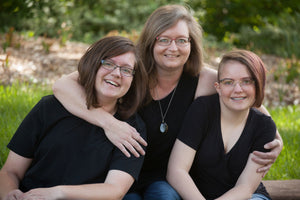 Blog
---
Good Morning and Happy Sunday! Moving a little slow so far today. I am guessing it is due to the cooler temperatures and fresh sheets on the bed. That combination...
Good Morning and Happy Sunday! I am sitting by my chilly front window watching the sun shine on the wealth of snow we have. The weather decided it was time...
Good Morning and Happy Sunday! What do I say about today? The temperature is just right outside. In fact, I turned off the heat and have the window open to...